During 2019 there has been much movement on climate change policy and governments across the world have set carbon reduction targets but was does this mean for the people of Glasgow?  At South Seeds, we have pulled together all the key carbon reduction targets which will impact Glasgow, see below…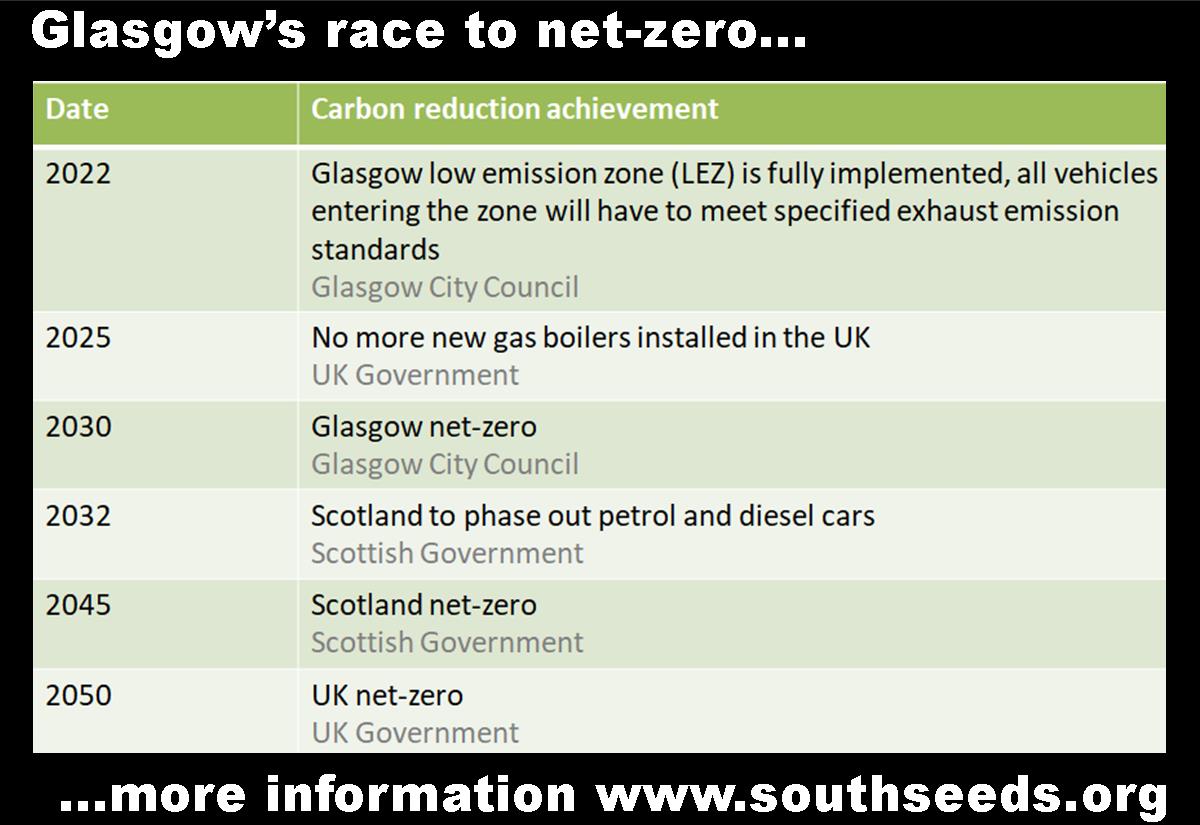 It was back in May this year, that Glasgow City Council declared a climate emergency and then in September set the target of net-zero for 2030. A climate emergency group has been set up at the council and they put together their recommendations in a report.
Much of the target setting in the UK has been prompted by direct action on the streets, extreme weather events and the UK Committee on Climate Change publishing a report in May which outlined the UK's contribution to stopping global warming.
The decarbonisation of heat and transport are the big issues which need to be tackled in the immediate future, to enable  net-zero carbon emissions. This means not only using less but eventually zero fossil fuels to heat our homes and travel. Individually we are able to achieve some of this ourselves by making small energy efficiencies at home or exploring different methods of travel. However larger scale action to reduce carbon will need changes to infrastructure, such as: the availability of electric street cars, cycle lanes and possible district heating schemes.
Many are concerned that the transition to net-zero will have a negative impact on some people. The Scottish Government set up the Just Transition Commission to look in to this  and they will publish their first report in 2020.
This issue isn't going away. Next year the world will travel to Glasgow for the UN Climate Summit (known as COP 26), to be held at the SECC in December 2020.
If you would like more information on why the climate is changing, what impact this will have on Scotland and what we can do about it, do get in touch. South Seeds can deliver a two hour course which gives a brief overview or a more in-depth six hour course which can be delivered in two or three sessions or a single day. Simply email Lucy on info@southseeds.org to find out more.