Stuck at home feeling cold?
Did you know you can save energy by improving your doors and windows? Call Paul, our energy officer on 07548334147, for advice or WhatsApp a picture of your external doors or windows and he will advise you how you can make an improvement, which will save you money on your energy bills.
You can easily draught proof your external door using our handy factsheet.
If you have single glazed windows, you could try a temporary and affordable fix to keep the heat in your windows with our how to guide.
These trying times may call for some home DIY, such as: making a draught excluder out of old clothes and a pillow case or blocking gaps in windows with paper can also be a good instant fix.
Finally you may have always wanted to improve your windows but until now didn't have the time. Have a chat with Paul and you could hatch a plan for your total tenement window refurbishment in the autumn ready for next winter.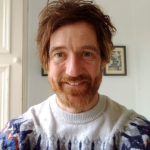 Home owner, renter or social housing tenant WhatsApp or call Paul, he will give you the advice which fits with your circumstance.