Now we are moving in to autumn, it is taking longer for clothes to dry. If you live in a Victorian tenement house or flat, the answer is simple, install a pulley which will dry your clothes quicker with the warm air which collects near the ceiling.
South Seeds can install a clothes drying pulley for about £45. We suggest you purchase the pulley because you will know how many clothes you need to be able to hang on it, and what style of pulley you prefer.
If you stop using a tumble dryer, you will save the money on the pulley install very quickly through lower energy bills. If having a pulley reduces the number of times you turn the heating on to dry clothes, you will also save money on your energy bill. Many people find when they stop using a tumble drier, not only do they start saving money, their clothes last longer and are less likely to shrink or bobble.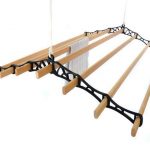 Prices for clothes pulleys vary, an average sized pulley (approx. 1.5m with 4 wooden laths) starts around £50 and can range up to £150. Do note: the more laths you have the more washing you can fit on it.
Generally a ceiling mounted clothes pulley will consist of rack ends (commonly cast iron), wooden laths, and a pulley system including 1 double screw pulley, 1 single screw pulley, one cleat hook and approximately 10 metres of strong pulley rope (often waxed).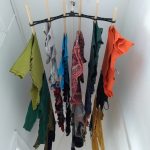 Fitting a clothes pulley is fairly straight forward; however it does require finding wooden joists in the ceiling and the use of an electric drill. If you don't like the sound of standing on a ladder with an electric drill, why not book South Seeds handyman.
Alternatively if you don't have an electric drill to install the clothes pulley but you want to do it yourself why not sign up to the Southside Tool Library and borrow one for free , check out www.southseeds.org/tools