Robert, who lives just round the corner from South Seeds new office on Victoria Road, first engaged with South Seeds after seeing the new shop front and promotional A-board. He lives in a privately rented, sandstone Victorian tenement, which at the time of his initial engagement had single glazed windows and no central heating system.
Unfortunately, Robert suffers from chronic obstructive pulmonary disease (COPD) and because of this he spends quite a lot of time at home. This makes it particularly important for him to be able to heat his home to a healthy temperature as an under-heated home can exacerbate existing health conditions, like COPD.
With only one gas fire (which was condemned following a recent visit from a gas safe engineer) and several plug in electric heaters, Robert found it extremely difficult and expensive to heat his home. During the winter months, Robert was spending as much as £40 per fortnight to heat his home using the electric heaters, with one particularly cold winter week costing him as much as £40 for just seven days!
When he dropped into the office, South Seeds operations officer Lisa booked him in for a home energy audit. Through the audit Casey, South Seeds energy officer, identified a range of energy efficiency improvements that could be made to Robert's home, including draughtproofing, LED lighting, secondary glazing and the installation of a central heating system. He also supported Robert to apply to the Scottish Government's Warmer Homes Scotland scheme, which supports vulnerable householders living in poorly performing properties to make energy efficiency improvements.
Through the Warmer Homes Scotland scheme, Robert was able to get a new central heating system. With this major energy efficiency improvement, Robert finds his home much more comfortable to be in and has noticed a significant reduction in his heating costs. He said that "my gas central heating is much more affordable and much more effective than my old plug-in room heaters, my whole flat now feels warm rather than just one room!"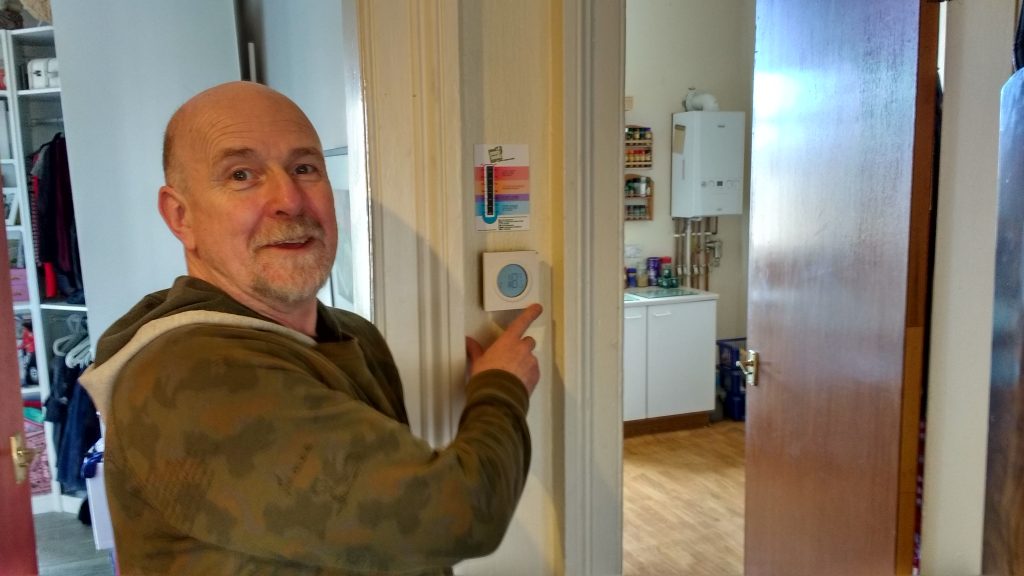 In addition to the home energy improvements, Casey is also supporting Robert to switch his gas and electricity supplier. Robert had a prepayment meter for his electricity, so to access the best possible tariffs Casey arranged for him to have his meter changed to a credit meter. Once the meter was exchanged, Robert was able to access the cheapest tariff for his gas and electric and will save a predicted £102.93/year on his new tariff.