It's easy to reuse or recycle wooden pallets, they are a useful building resource. You can make anything from shelves to furniture; you can even use them to make window boxes and compost bins. However if you are an organisation collecting pallets it's important to register with SEPA and everyone should avoid using pallets which contain harmful chemicals.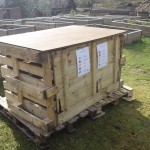 Although pallets can be used as they are or dismantled in to planks, it is much easier to use them as they are. At South Seeds we use pallets to make compost bins because they are the ideal size and shape.
If you plan to grow food or create compost in a structure made from pallets, then you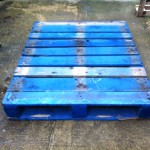 should avoid pallets which are painted (the blue, red and brown ones are usually collected and reused by the pallet company which supplies them).  You should also avoid any pallets with a MB stamp. This stands for Methyl Bromide which is a harmful chemical used to prevent wood eating insects consuming the pallets. It was banned in the UK 5 years ago so they are much rarer to come by now. Look out for the HT stamp, which stands for heat treated and means the pallet is definitely safe to use.
It is easy to spot pallets on the streets when you start looking for them. If you are acting on behalf of an organisation, such as a community group or business you should register with the Scottish Environmental Protection Agency – SEPA as a collector and transporter of waste. It's free to register if you are charity and you can apply online on the SEPA website. We are proud of our letter of registration. You will need a waste transfer note (WTN) when you're collecting pallets from businesses so you can get a signature from both parties involved in the transaction. The WTN is to ensure that a record is kept of the transfer of waste, you can get a template for this on the Netreg website, which is a useful place for environmental guidance for businesses and groups.
If you are creating something out of the pallets, you also need a paragraph 14 exemption notice from SEPA. This is notification of the manufacture repair or refurbishment of finished goods from specified wastes. Again you can get this for free and you can apply on the SEPA website.
If you want further support to find out if you need is register to use waste, why not call Resource Efficient Scotland's helpline 0808 808 2268.