At South Seeds we have conducted hundreds of home energy audits to support residents to reduce their energy bills and stay warm in their homes. We regard it as a privilege to be let in to residents' homes and we take that responsibility seriously. This is how our staff arrange and carry out home visits.
Enid was increasingly finding her home cold. She had lived in her second floor Victorian tenement for over ten years and during that time, her health had declined. Enid wanted to stop the cold draughts, so her home would retain as much heat as possible during the winter. She had no idea where she could get help and asked her local councillor, who referred her on to South Seeds.
South Seeds operations officer Lisa booked Enid in for a home visit at a time which suited her. Casey, South Seeds energy officer visited Enid at home and conducted a home energy audit which identified how she used energy in the home and how the home could be more efficient. The visit was followed up by a written report which included a checklist of the things which could be done. Enid said the audit was "positive experience" and the report was "easy to understand".
While Casey was in the Enid's home, he suggested a series of draughtproofing solutions and demonstrated how they would work. The report also explained how draughtproofing Enid's door and windows would improve the thermal comfort of her property. Enid got in contact with South Seeds because she was keen to use the South Seeds' energy saving handyman service. Lisa visited Enid at her home to identify which windows and doors she wanted draughtproofed. Lisa found that the property had a significant amount of items being stored and this prevented full access to some of the areas the handyman would work.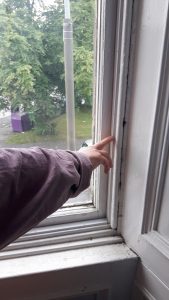 Lisa priced up the work and explained how long it would take to Enid. Lisa suggested that it would be easier for the handyman to access the windows if space was cleared. Enid got back in touch with Lisa after she had cleared space in the rooms, she wished the work to take place in.
Enid said later that she is generally apprehensive about people coming into her property because she is "…concerned that people would judge me". South Seeds members of staff "put her at ease" were "empathetic to her circumstances" and were "reassuring and positive". She said that she was clear about what was expected of her and "…booking the work was easy because times were flexible".
South Seeds handyman Campbell Griffith attended at a time that suited Enid, and she said she "…felt safe and secure with Campbell. I felt I could trust him. He answered all my questions". Enid got all of her windows draughtproofed using a variety of methods. Although the majority of windows were traditional sash and case, she also had Velux and dormer windows and even an unusual window into the close!
Campbell showed her the range of materials he was using so Enid knew what he was installing where. When the job was complete she said Campbell "…shook my hand and said it had been a pleasure. This was a pleasant and delightful surprise".