Sheltered housing complexes, where a number of units surround common ground, are ideally suited to composting. We have designed and built bins which are perfect for sharing in these situations, with easy to lift lids, two bays – so the compost can be rotated and an easy access door which makes turning less of a chore.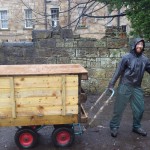 A wee while back, we built a compost bin for a sheltered housing complex in Crosshill. The complex has 29 one bed roomed bungalows each with a kitchen, there's also a common room space, where residents can meet up, and a large amount of shared greenspace. We built the bin off site and then delivered on foot with our trolley.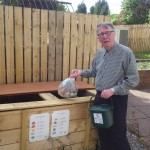 We gave residents a how to use the compost bin session and some caddies with liners to get started. Over the last few months residents have been filling up their bin with vegetable peel, tea bags and loads of grass cuttings from their gardens.
Frank a resident from the complex said "We're pleased to have our bin, it is a great talking point and we are very glad to be able to do our bit for the environment".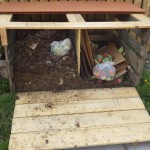 Their first bay has filled quickly so they've started using the second bay. Just a few more months and waste from the first bay will have rotted down into compost and be ready to use in the garden.
The compost will be ideal for potting up seedlings or house plants.
Find out more about how to compost on the Southside. If you would like South Seeds to help you start composting, call Robin on 0141 636 3959 or email robin@southseeds.org