South Seeds is working hard to support the decarbonisation of transport on Glasgow's southside. We have new infrastructure to tell you about, as well as sharing information about existing and improved low-carbon travel options.
Electric vehicles are now a much more viable option but how much do you know about them? We have published a handbook on electric vehicles for southsiders, which is worth a read. It shows the charge points on the southside (as of December 2019) and explains the options, from a noncommercial point of view, when it comes to considering switching to an electric vehicle. Do let us know if you still have any questions about electric vehicles after reading this handbook.
This March we will be introducing three electric bikes to the Southside Tool Library. Electric bikes enable riders to go further and tackle hills which may otherwise be a barrier. Tool library members will have the opportunity to borrow the electric bikes for up to three weeks at a time and find out what the bikes feel like to ride and where they enable them to go. Keep a look out for more information on our social media or in our shop window.
We have been concerned that electric vehicle charging will be a problem for the high density tenements here on Glasgow's southside. Over three quarters of residents live on the first floor or above, so they would struggle to connect an electric car to their domestic electricity supply and would be totally reliant on public charge points. We carried out some research to find out what southside tenement residents thought about electric vehicles, have a read of our report about tenements and electric vehicles.
We are pleased to report that we have also been working collaboratively with Glasgow City Council to find good locations for electric car club vehicles. Electric car club vehicles, managed by Co-Wheels, will be coming to these streets: Allison Street (near Langside Road), Albert Avenue (near Queen's Park Drive) and Kenmure Street (near Albert Drive). A hybrid car, also managed by Co-Wheels, will be available on Torrisdale Street (near Queen's Park Station). We hope that this will enable more southside drivers to experience electric vehicles. Driving without the usual expensive visit to a petrol station.
We are indeed lucky on Glasgow's southside to be so well connected to trains, buses, parks and cycle routes. Active travel is walking, cycling or using public transport. It is often the most convenient option in this area however not everyone is aware of all their active travel options. The Active Travel Times newspaper we published in 2018, documents most options and shares the stories of other local residents' favorite routes. If you are new to the area, check out the newspaper. It even has ideas for active travel days trips outside Glasgow.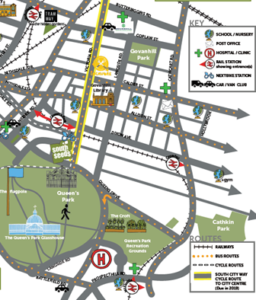 You may be surprised to know that electric vehicle charging facilities have already been installed on Victoria Road, as part of the South City Way works, and will soon be operational. It is reassuring to know this increasingly busy and important Glasgow street is ready for the future. Victoria Road is the ideal spot to leave a car for a charge, while top-up shopping or having a coffee. Can you spot the white electric charge unit ready for action, on the other side of the road to Queen's Park Station? There are more charging points to be installed along the road too, this is just the first.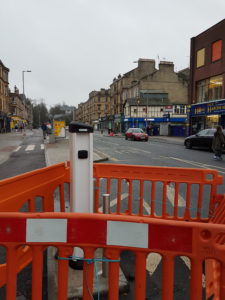 Finally, many of you have already used the Nextbike electric bikes which are docked on the corner of Torrisdale Street and Victoria Road. You can check their availability on the nextbike website. Some residents have told us they find the ordinary Nextbikes cheaper than owning and servicing their own bike. When the South City Way (the segregated cycle way currently under construction) opens, it will be 12 minutes to cycle from Queen's Park to the centre of town, which is quicker and cheaper than most other forms of transport.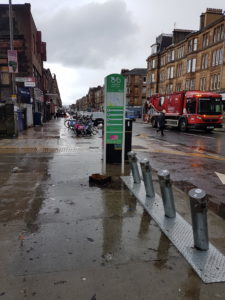 There is a huge of personal benefits to using low-carbon transport: from saving money to becoming healthier. Glasgow's southside is the place to try out all these different forms of travel and find out what the benefits could be for you.