Simona was referred to South Seeds by Katarina, the community support officer at Govanhill Housing Association. Simona, her partner and their three young children were living in a privately rented flat that was bought by Govanhill Housing Association as part of an area improvement scheme. The flat was below tolerable standard and very energy inefficient and Simona took up the housing association offer to be rehoused. While they were waiting to move into a new housing association home, Katarina was concerned about Simona's ever-growing gas bill and thought her and her family would benefit from a South Seeds energy audit.
With support from Katarina, South Seeds energy officer Casey conducted an energy audit of their home, giving advice on how they might reduce their energy use. During the audit he also contacted Scottish Power to provide up-to-date meter readings to get an accurate picture of the extent of Simona's gas debt.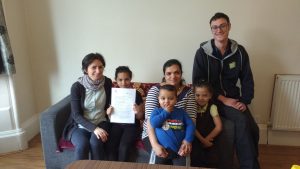 Simona's partner was employed but the family was still on a very low income and heating their home to a healthy temperature cost much more than normal due to the poor condition of the property. This meant the family had built up a considerable gas debt during the winter months, despite the ongoing payments they had been making.
Casey suggested that they make an application to the Scottish Power Hardship Fund to help clear the families debt. In the weeks following, he wrote up the application to the Hardship Fund while Katarina contacted the National Debtline so that Simona could receive financial advice. Katarina also supported Casey to get the necessary documentation such as benefit award letters that are required by the Hardship Fund.
With all the information in place, the application Casey submitted to the hardship fund was successful and cleared the families' debt. He also helped them setup a more affordable payment plan to cover the cost of their ongoing usage and made an application on their behalf for the Warm Home Discount, securing them £140 of credit on their electricity account. Finally, Casey provided some LED bulbs for the family that gave them much brighter and more energy efficient lighting and locked in savings for them in the future.