Posted on 7/2/2014
in News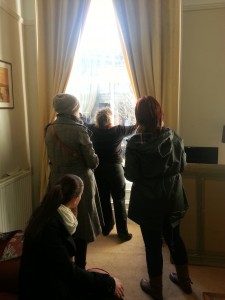 Nine Glasgow City Council staff involved with developing and applying planning rules and regulations met Amanda Kean, South Seeds' Energy Officer in a Strathbungo town house to find out more about practical affordable secondary glazing solutions for listed properties.
Amanda and our handyman installed a polycarbonate sheet with magnetic tape over a single glazed sash and case window. The planners couldn't spot the secondary glazing from a distance. Our temperature gun showed that the window with a secondary glaze was 3°C warmer in the middle of the day.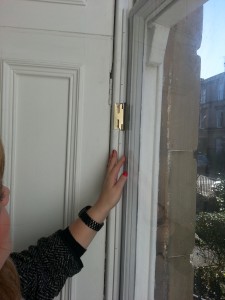 Staff from Glasgow City Council's City Design Team thought that while care needed to be taken to ensure that features such as window furnishings were retained, the polycarbonate secondary glazing could be a suitable solution to trap heat in some listed Glasgow homes.
We will continue to collaborate with Glasgow City Council on this and post any further developments.
If you live in the Southside and are concerned about your windows, give us a call, we have solutions.