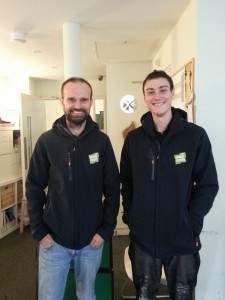 South Seeds has two new Energy Officers: Ruskin Gammon and Casey Dickson. Since the beginning of August, Ruskin and Casey have completed over 40 energy audits between them and have saved local residents money through identifying insulation and draught proofing, supporting residents to get a better deal from their energy provider, highlighting when residents may be entitled to benefits such as the Warm Home Discount and making referrals for new boilers where appropriate.
"It's been great to see local residents take up energy-saving measures – whether it's lighting, glazing, insulation, draught proofing. One client told me her bedroom is so much warmer since the chimney balloon has been fitted, she no longer needs a hot water bottle. It'll be interesting to see how things develop as the weather gets colder – we are in a great position to be able to offer in-depth advice based on what we find in residents' homes and their energy needs, and I expect we're going to get even busier." Ruskin
"Delivering South Seeds Energy Efficiency project has been, and continues to be, a truly rewarding experience. The opportunity to work in the local community on issues of sustainability is something that I feel very passionate about. Being welcomed into people's homes and meeting people from such a diverse range of backgrounds is a really satisfying aspect of the work we do.  It's been fulfilling to receive such positive feedback on the advice we have given out." Casey
If you would like an energy audit call the office on 0141 636 3959 and we can book it in for a time which suits you.