Posted on 20/12/2013
in News
In Govanhill, Crosshill, Queen's Park and Strathbungo many residents have huge windows which let the heat escape. The white areas in the thermal image below show where the heat loss is the greatest.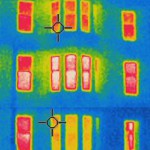 Double glazing film is the cheapest and quickest solution for keeping the heat in. Have a look at South Seeds' Glazing Film 'How to' Guide. You can purchase the film on the internet or at big DIY stores. A pack costs around £12 and will do a number of windows.
Also it actually looks very smart, if not invisible.