Posted on 6/12/2013
in News
Today some volunteers from Agnew Lane planted gooseberry and red current bushes in planters at Crosshill Railway station.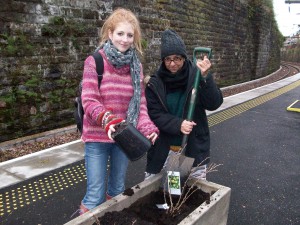 Robin South Seeds Community Development and Growing Officer said the bushes would produce some fruit for the next growing season but it will take a few seasons for a full harvest. Robin has more winter maintenance work for volunteers.
Current volunteers are planning to meet with Robin about the work required to develop new sites. If you would like to be involved email Robin on Robin@southseeds.org or call the office on 0141 636 3959.