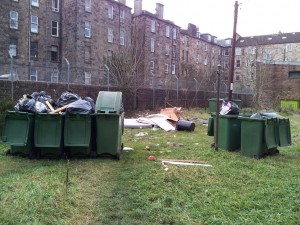 Like many hidden spaces in Govanhill, the space behind the back courts of Dixon Avenue and Langside Road was full of dumped rubbish and windblown litter. However when Robin Ashton, South Seeds Community Development and Growing Officer saw the site in February this year he immediately saw the potential of a South West facing space which could be turned in to a community growing area.
Robin wanted to find out what other residents thought the space might have potential for. He conducted a door to door survey of residents in the Victorian tenement blocks which over looked the space. Many residents wanted the spaced cleaned up and were also interested to get involved in food growing.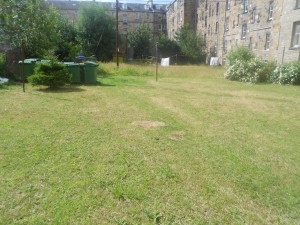 The clean-up in April was a massive success, with over twenty residents attending. The team picked up all the litter and piled up the bigger items to be picked up by the council. Robin and the residents worked out how they could create growing space by installing raised beds.
A month later Robin organised for four raised beds to be delivered. Residents were on hand to fill the beds with rubble for drainage and then top soil to create growing space. Throughout May, June and July South Seeds supplied the residents with pea, potato and kale seeds to plant in the raised beds. The residents have started their own facebook page so they can keep in contact and post developments.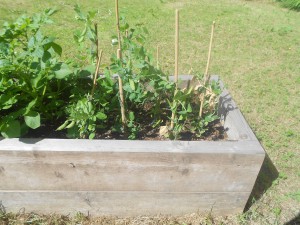 This month the residents have harvested potatoes, peas and kale. The raised beds have been such a success that the residents are going to install some more. If you have a space with potential for food growing call Robin at South Seeds on 0141 636 3959 or email him on Robin@southseeds.org.